See every game within your operation instantly, whether you operate a single venue or a large multi-site enterprise. Handle multi-game, multi-denomination accounting with ease. Make informed decisions with real-time views of your floor.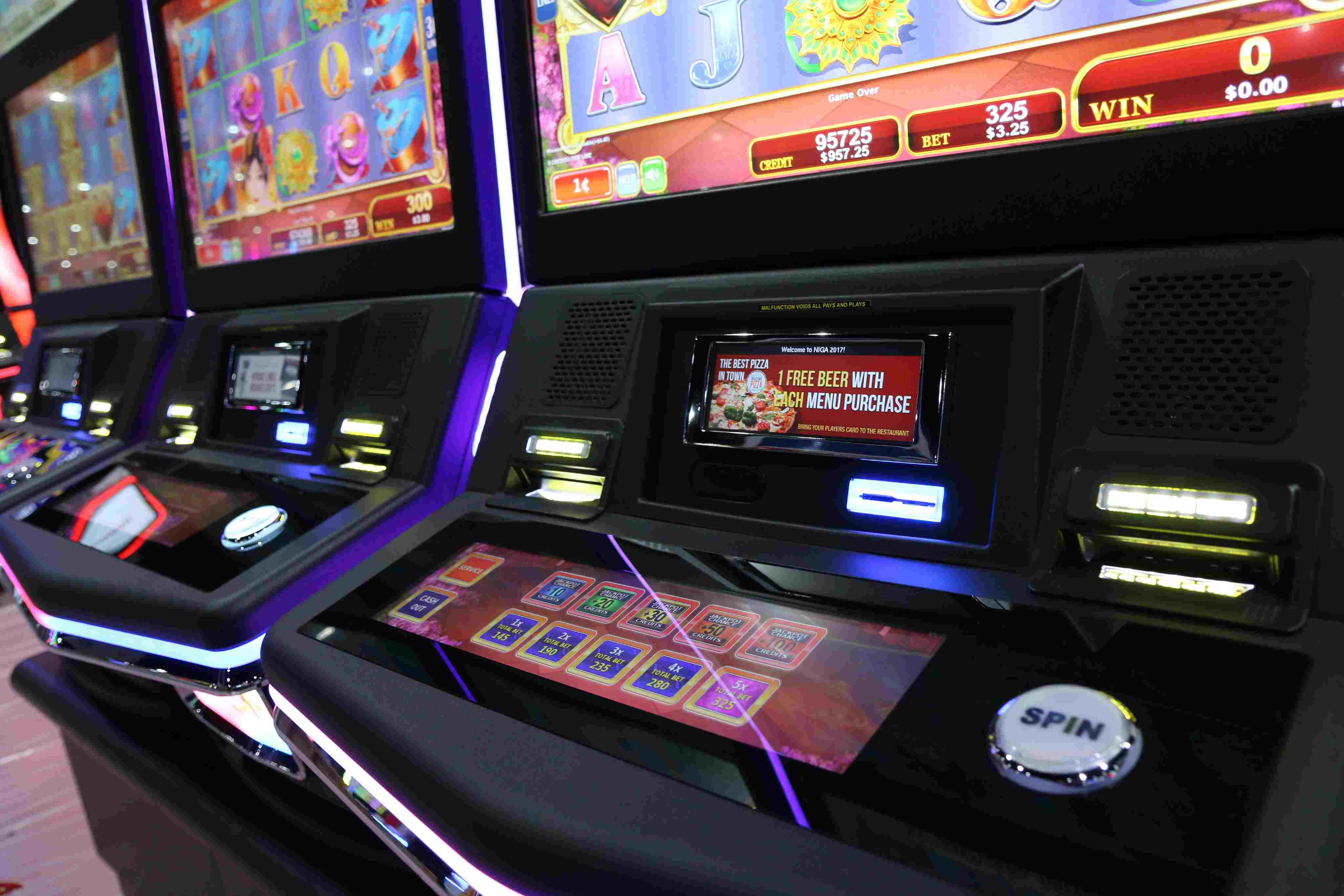 ALL IN ONE
SYNKROS captures machine transactions by game, de­nomination and patron, so you see theoretical win by what game patrons play, rather than settling for a box average. Now you can optimize game library and individual patron reinvestment, all in real time.
KEY FEATURES
Jackpots and fills tracked by time, employee, and event-related patron information
Electronic signature and time stamping on all transactions
Interfaces to currency counters and weight scales
Lease and Participation game management
EPROM chip upgrades without changing machine numbers
Key Features
Machines moved by updating their location stored in the database
Import game paytables directly into SYNKROS with PAR Uploader
Electronic MEAL Codes
Slot Templates with Custom Fields
Device and Game Level points ratios • Device Templates

CASHLESS WAGERING
Because some of your better players would prefer to game without the hassle of constantly having to feed cash or high-value TITO tickets into their favorite machine, Konami's SYNKROS offers a paperless wagering system that allows guests to load their player's account with funds through a secure PIN.
Download Brochure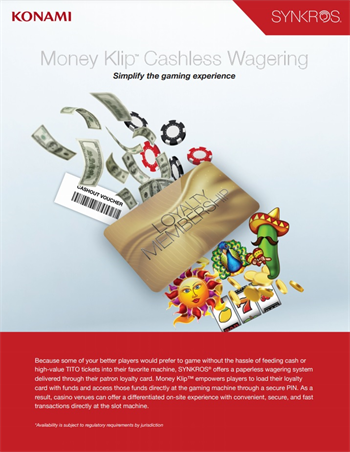 CONTROL YOUR FLOOR WITH AUTOMATED DEFINABLE ALERTS
SYNKROS' Security and Alerts module can be configured to send out over 1,500 types of customizable, real-time alerts based on data collected from machines or employee transactions. Alerts can be delivered to dedicated employees at their work stations or directly to their mobile devices so that your team is always aware of what is going on within your property.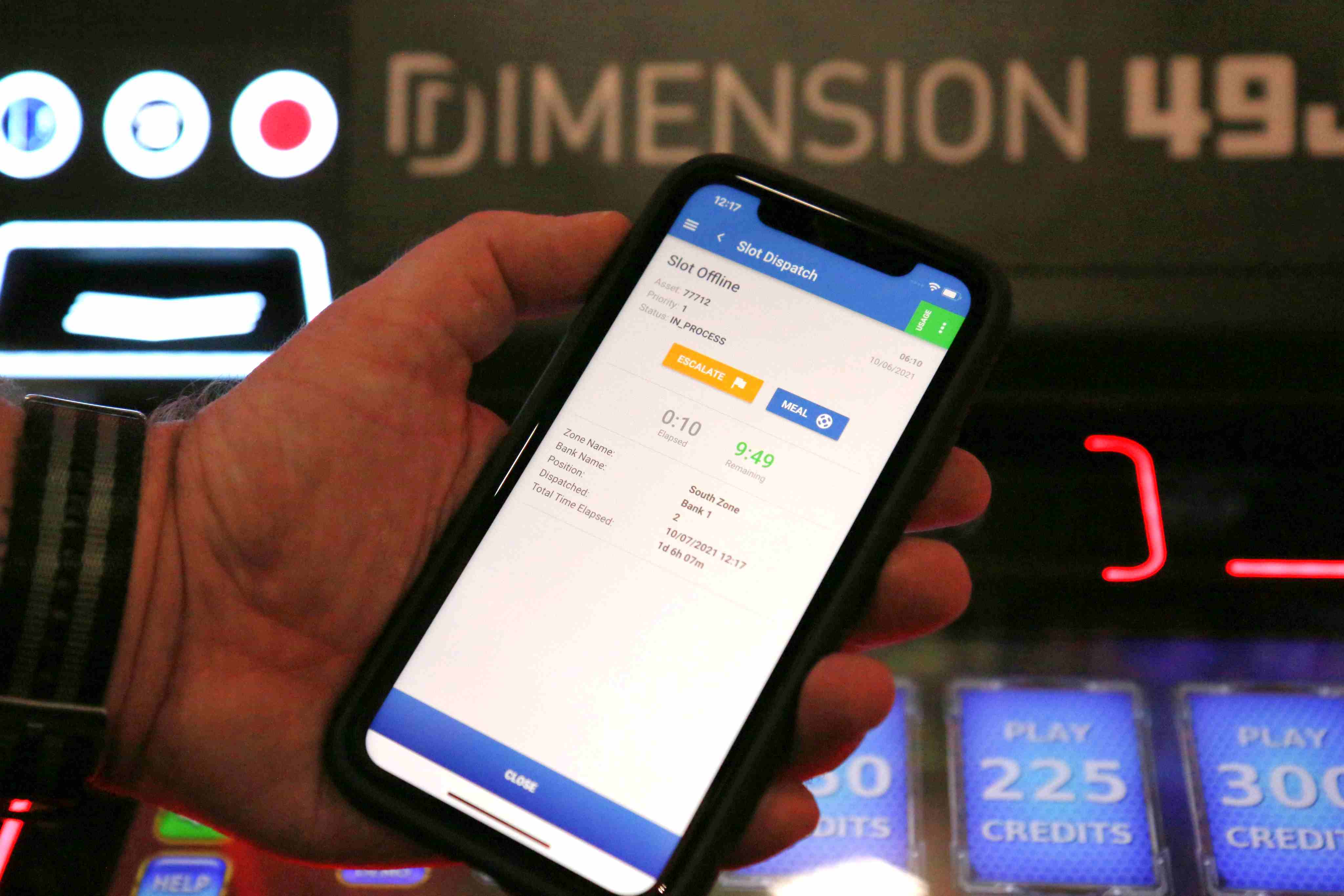 CONNECTION & CONTROL, AT A FINGERTIP
Konami's Konetic™ Employee App allows casino employees to perform cash drops and TITO ticket redemptions directly from a permissioned mobile device. And with the new Dispatch tool, teams can manage and respond to system alerts through round-robin or manual assignments, with status and activity tracking.
Download Brochure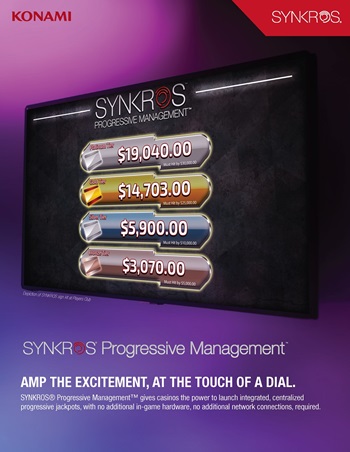 SYSTEM-DELIVERED PROGRESSIVE JACKPOTS
Casinos can create their own progressive jackpots to run on any SAS 6.0+ enabled game machines that are AFT capable on the casino floor with a new integrated technology called SYNKROS® Progressive Management™ (SPM). SPM can be configured to run integrated progressive jackpots on any machine, bank of machines, casino zones, or even the entire gaming floor. Launch custom-configured, standard or mystery progressives to targeted player segments and machines of their choice, from within SYNKROS' integrated platform and without any additional in—machine hardware or networking.
Download Brochure