SYNKROS captures an incredible wealth of statistics across your gaming operations, while empowering your team with integrated solutions that put it to use. Leverage SYNKROS' complete set of business intelligence tools with detailed reports and visual analytics to better serve ongoing analysis of the entire enterprise.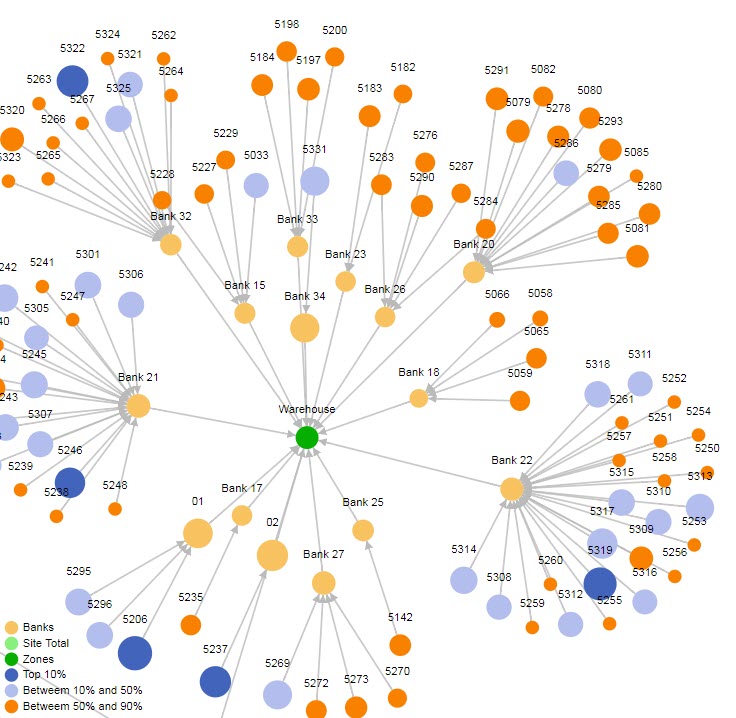 360-DEGREE VIEW
SYNKROS captures and compiles data through all connected areas of the property in order to generate a true 360-degree view of your patrons, and ultimately drive informed business decisions that impact revenue, operational efficiency, and customer experience.
VISUALIZATION
SYNKROS' visualization tools allow you to see your operations in more way than ever with thermal graphing, demographic maps, custom KPI queries, segmented micro reports, activity reports by time interval, and more. Available heat maps empower admins to view internal property performance (such as slot volume), or external geographical results (such as patron density by postal code) to discover theoretical worth or feeder market performance.
REPORTING
Single enterprise data repository
Full access to published data dictionary
Game and denom-level granularity
Easy to customize ad-hoc reporting & analytics
Front line flash reports
Operational reports
Lifetime data availability
Schedule and e-mail dashboard reports

Developed by operators for operators, SYNKROS® Dashboards™ are a set of web-based tools that transform raw data into usable insights for casino operations and player behavior analytics. Unlock the value in your data and pinpoint the "why" behind each player, product, and promotion.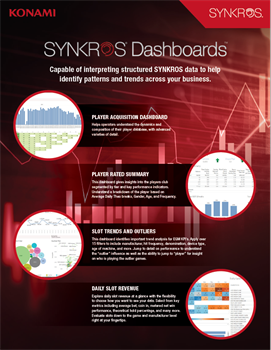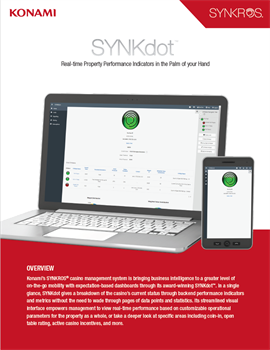 View real-time casino performance at a glance with expectation-based dashboards directly on your mobile device. Konami's SYNKdot™ offers a simple mobile interface to view real-time performance based on customizable operational parameters for the property as a whole or key programmed areas. In a single glance, SYNKdot gives a breakdown of the casino's current status through backend performance indicators and metrics without the need to wade through pages of data points and statistics.