INDUSTRY-LEADING SINGLE ECOSYSTEM WITH 99.9% AVAILABILITY
Designed from the ground up for high availability, SYNKROS® is developed as a single, non-forking code base system, incorporating best-of-breed architecture from the financial and military industries. The flexibility and scalability of the SYNKROS architecture accommodates a wide range of property types—from local pubs and routes, to cruise ships to large single destination properties, to hybrid multi-property portfolios. It's a comprehensive, real-time enterprise management system with the reliability, flexibility and availability to help casinos stay ahead of the competition.
ARCHITECTURE DIAGRAM
SYNKROS architecture empowers single and multi-site properties to benefit from industry-leading tools and technology, at the highest level of stability and performance. The casino floor, SYNKROS workstations, and interfaces can seamlessly be switched from the Primary Data Center (shown in red) to the Disaster Recovery Data Center (shown in grey) in under one minute, providing the casino with 99.9% uptime and complete peace of mind.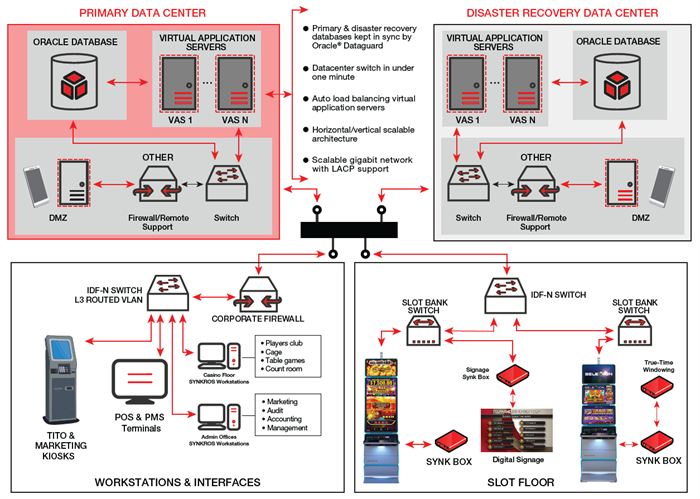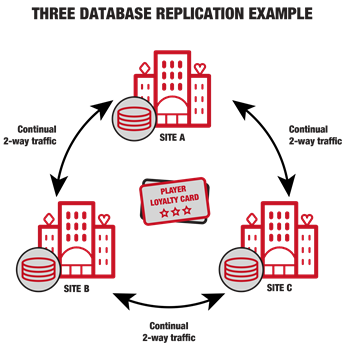 ONECARD SOLUTION
Operators with a multi-site casino portfolio can implement a OneCard solution across all property locations. The integrated SYNKROS Patron Replication module enables multiple properties to share a real-time patron master record for a true OneCard loyalty program solution. All corresponding player activity—including wagers, points earned and redeemed, and more—is summarized nightly and shared among all multi-site properties, empowering all portfolio properties to offer a seamless brand loyalty experience.

EARLY DETECTION & PREVENTION
Konami's InfoSYNK Local™ has the power and agility to allow users to monitor all aspects of the SYNKROS application and customize their defined performance indices. It uses the embedded Oracle Application Express (APEX) architecture and requires no additional hardware or software. It allows administrators to monitor performance and configuration of different SYNKROS and interface components throughout the technology stack and infrastructure—including the middleware components used to manage SYNKROS' Synk Box in-machine hardware component, the Oracle database, and even the SYNKROS application itself—with current/active monitoring, historical trending, and scheduled reports sent via email.