TWIN 27" HD MONITORS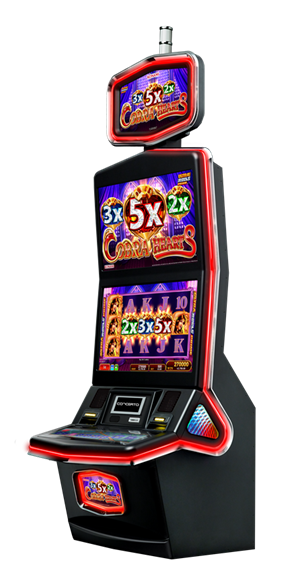 Concerto houses not one but two hypnotic edge-to-edge monitors, which amplify symbols, boost color, and add an extra element of irresistible fun.
HOLOGRAPHIC LIGHTING
With unique, holographic lighting that's engineered to attract, not distract, Concerto simply won't go unnoticed. Its distinctive luminosity will, however, enhance the player's visual experience.
CINEMATIC SURFACE
From top to bottom, Concerto's smooth, modern surface is the deepest shade of black. That's because this cabinet is optimized to turn traditional gameplay into an entirely cinematic affair, drawing players in with an instinctive ease.
SYNCHRONIZED TRIM LIGHTING
A rainbow of vibrant colors in rotating hues of red, blue, green, purple and yellow outline Concerto's sleek body, and synchronize to the beat of each game.
KP3+ PLATFORM
KP3+ takes everything you love about the original board, then turns things up a notch. With new premium game titles, enhanced processing speed, higher resolution graphics output, and enriched sound, KP3+ isn't just a plus. It's the platform you absolutely need on your floor.
KP3 BACKWARDS-COMPATIBLE
All KP3 base games and Extended ROMs are playable on the Concerto cabinet