2021 G2E Las Vegas Showcases a Depth of Casino Games and Systems Developments from Konami
Las Vegas, NV - October 12, 2021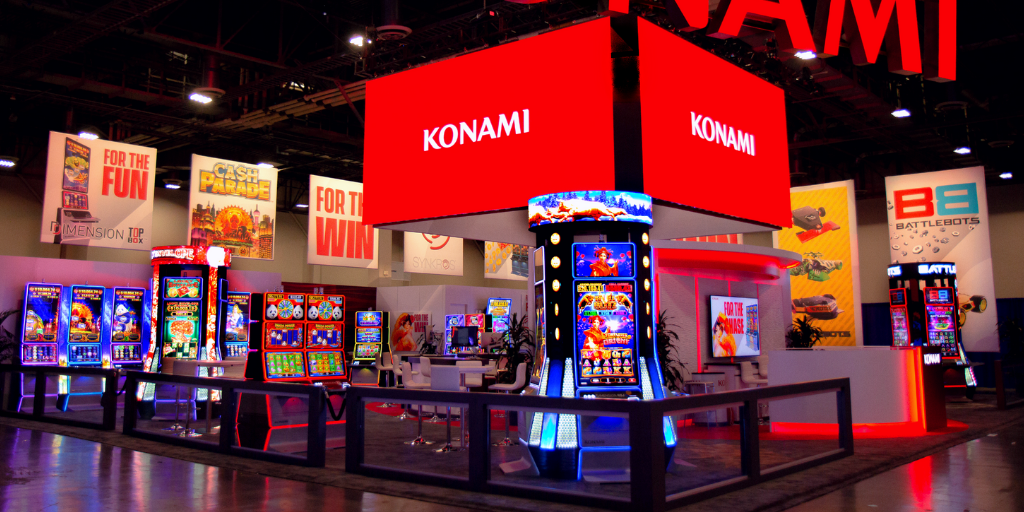 Konami Gaming, Inc. presented a landmark selection of casino slot games and systems technology at the Global Gaming Expo (G2E) in Las Vegas on October 5 – 7, 2021. Continuing its commitment to advance future product, Konami marked the G2E debut of four additional DIMENSION™ series slots cabinets, based on proven elements of the award-winning DIMENSION 49J™. Fresh slot content from Cash Parade™ to BattleBots® attracted attention by way of novel game mechanics, imaginative features, and expert design. Konami's award-winning SYNKROS® casino management system stood apart for its newest cashless wagering enhancements, cardless player login options, SYNK31™ Title 31 / Anti-Money Laundering (AML) system, and enhanced Konetic™ employee mobile product which is now supported on iOS in addition to Android devices.

"Konami's team of world-class developers continue to deliver winning advancements to the gaming floor, which is clear through our G2E 2021 line-up. Our proven DIMENSION slot hardware has grown from one machine to five unique form factors, backed by promising original series. SYNKROS is showing leading momentum in areas including cardless, cashless, Title 31 / AML compliance, and more. And Konami has historical horse racing games at G2E for the first time," said Tom Jingoli, executive vice president & chief operating officer at Konami Gaming, Inc.
Thousands of casino executives and professionals at the Las Vegas show encountered the G2E premiere of DIMENSION TOP Box™, DIMENSION 75C™, DIMENSION 49™, and DIMENSION 27™. Along with DIMENSION 49J, each previewed winning Konami slot content such as Bull Blitz™, All Aboard Gold Express™, Cai Lai 8 Fang™, Panda Power™, and more.
"With the success of DIMENSION 49—ranked the industry's highest performing portrait core cabinet—Konami is excited to support the market with expanding core series including everything from proven brand extensions to novel jackpot events," said Jingoli. "On the premium side, Konami is building on the success of All Aboard with a high-denom All Aboard Gold Express, as well as the debut of Bull Blitz—another proven, player-favorite title from Konami Australia."
Konami's Cash Parade™ premium linked progressive was also among the show's must-see slots, premiering on Konami's brand-new DIMENSION TOP Box™. With a 5-reel game on the lower 27-inch display and a festive parade of lights blanketing the upper 49-inch portrait displays, Cash Parade merges a familiar spin-by-spin chase with spectacular top-screen bonuses animated across all connected machines. The series is designed with a mix of symbol-driven bonus adventures, all contingent on collecting a star in the 5th reel.
"DIMENSION TOP Box opens up new ways to deliver Konami premium content, which Cash Parade demonstrated at G2E 2021 in an unforgettable wall bank with LED animated design displays," said Jingoli. "Our designers have invested a great deal of ingenuity and attention in Cash Parade, and we see the same in dozens of other series launching across the award-winning DIMENSION cabinet line. Konami is excited for the ongoing options and performance DIMENSION offers, and we're committed to delivering on it daily."
A mix of fresh casino systems technology also landed at G2E 2021, by way of SYNKROS. Konami's award-winning casino management system premiered a number of new advancements including cashless wagering and TITO support at table games; cardless login by player phone number, QR code, and/or Near Field Communication (NFC); and new Konetic™ employee mobile features such as Jackpot processing.
"In addition to offering leading tools and feature options to our customers, SYNKROS delivers these and other enhancements through an ultra-reliable, non-forking code base system. SYNKROS properties, and their players, can access the latest cardless, cashless, and contactless conveniences, all powered by a system with 99.99% availability," said Jingoli.
For more information about Konami Gaming, Inc., please visit www.konamigaming.com.
About Konami Gaming, Inc.
Konami Gaming, Inc. is a Las Vegas-based subsidiary of KONAMI HOLDINGS CORPORATION (TSE: 9766). The company is a leading designer and manufacturer of slot machines and casino management systems for the global gaming market. For more information about Konami Gaming, Inc. or the SYNKROS gaming enterprise management system, please visit www.konamigaming.com.
Media Contact:
Tashina Wortham
Marketing Communications Manager
702.419.6025