Golden Entertainment, Inc. and Marker Trax™ to Unveil 'Quick Play,' Bringing Convenience of Cashless Advances to Company's Las Vegas Casinos
Las Vegas - February 02, 2021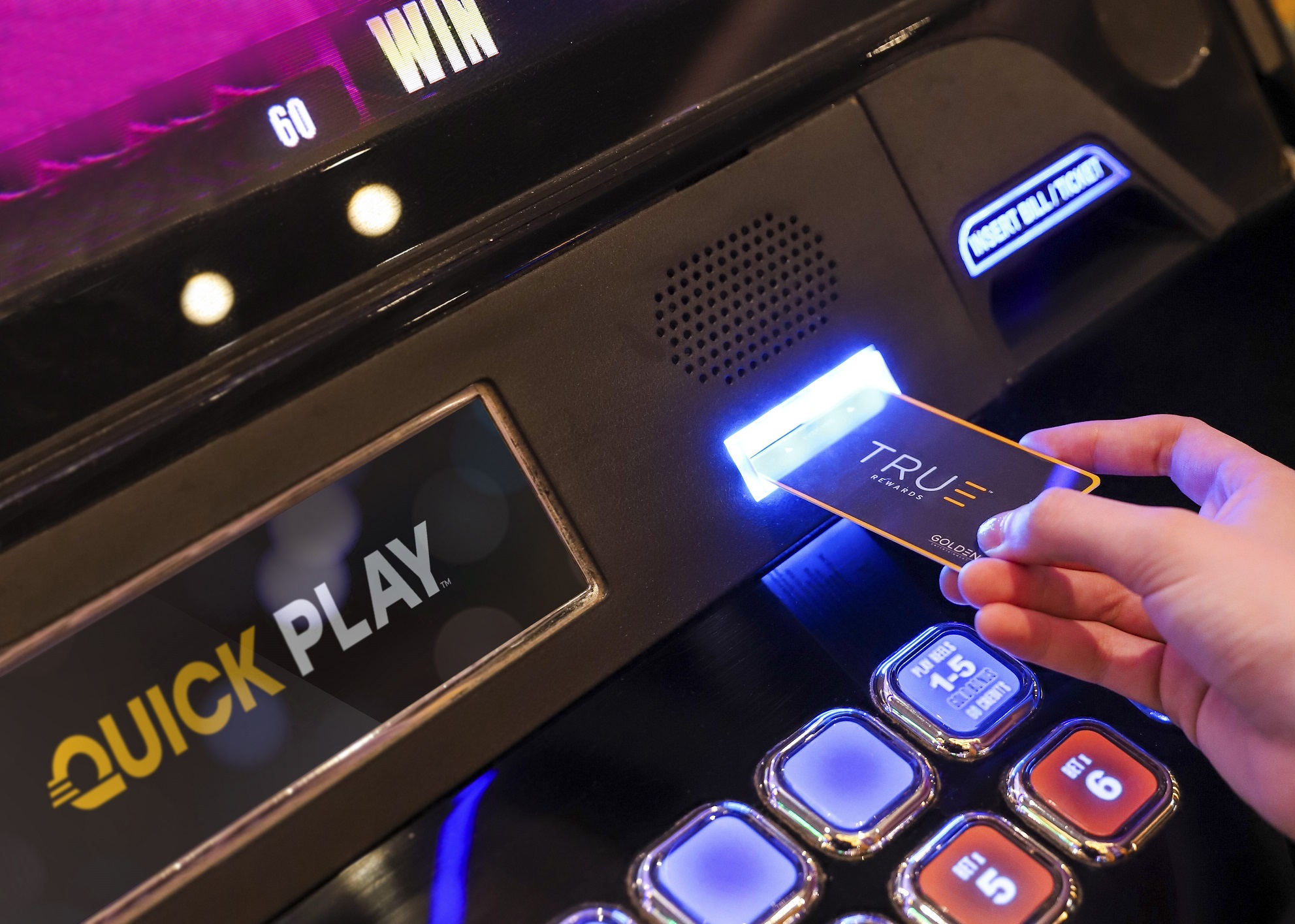 Golden Entertainment, Inc. and Marker Trax™ will introduce "Quick Play" to Golden Entertainment's casinos and taverns, bringing the convenience of cashless advances to players through the innovative technology of Marker Trax.
Quick Play will debut at Arizona Charlie's Decatur, located at 740 S. Decatur Blvd., and will roll out at Golden Entertainment's other casinos and taverns soon thereafter. Players will be able to use Quick Play and easily access advances electronically. Quick Play is powered by Marker Trax technology which interfaces with Konami Gaming, Inc.'s award-winning SYNKROS® casino management system to seamlessly issue, record, manage, and track players' cashless advances and electronic balances.
"Marker Trax and Konami have created pioneering technology that are bringing our exclusive Quick Play program to market," said Executive Vice President and Chief Operating Officer of Golden Entertainment, Inc., Steve Arcana. "Quick Play will improve the player experience by allowing our casinos and taverns to issue cashless advances quickly and conveniently."
Guests will be able to sign up for Quick Play either online or through an app and access their advance balance from the comfort of any gaming device at Golden's properties. The advance will then be available as players play different machines through Golden Entertainment's loyalty program, True Rewards.
"We are thrilled to partner with Golden Entertainment, leaders in the gaming industry, to introduce the Quick Play system utilizing the Marker Trax technology," said Charlie Skinner, chief operating officer at Marker Trax. "This customized platform was developed to support the Company's mission to enhance the player experience."
"Golden Entertainment has long prioritized guest experience and convenience, which is clearly seen here through its leadership with Quick Play's launch," said Tom Jingoli, executive vice president and chief operating officer at Konami Gaming, Inc. "The organization is leveraging top cashless technology available through Marker Trax and SYNKROS, to ultimately benefit players across its portfolio."
Quick Play is only one of the many new benefits of True Rewards. Free to join for anyone 21 years of age and older, True Rewards provides insider access to earn and redeem points at 140+ locations that offer world-class experiences at a premium value. Current members can sign up for Quick Play using their True Rewards account and new members can sign up at any Golden Entertainment casino or PT's Tavern.
Those interested in learning more about SYNKROS' award-winning product suite are encouraged to visit www.konamigaming.com
About Konami Gaming, Inc.
Konami Gaming, Inc. is a Las Vegas-based subsidiary of KONAMI HOLDINGS CORPORATION (TSE: 9766). The company is a leading designer and manufacturer of slot machines and casino management systems for the global gaming market. For more information about Konami Gaming, Inc. or the SYNKROS® gaming enterprise management system, please visit www.konamigaming.com.
About Golden Entertainment, Inc.
Golden Entertainment owns and operates gaming properties across two divisions – casino operations and distributed gaming. Golden Entertainment operates approximately 15,700 slots, 130 table games and 6,200 hotel rooms. Golden Entertainment owns ten casino resorts – nine in Southern Nevada and one in Maryland. Through its distributed gaming business in Nevada and Montana, Golden Entertainment operates video gaming devices at approximately 1,000 locations and owns over 65 traditional taverns in Nevada. Golden Entertainment is also licensed in Illinois and Pennsylvania to operate video gaming terminals. For more information, visit www.goldenent.com.
About Marker Trax
Marker Trax is a cashless, digital alternative to a casino marker. The product is the first of its kind to offer regulatory-compliant casino marker technology that takes the risk out of issuing advances. Developed and patented by the company's founder, Gary Ellis, in 2018, Marker Trax makes for a more efficient gaming experience for players. The application process allows players to be scored and given access to their markers in minutes. Marker Trax integrates into casino operating systems, allowing for easy start-up and player tracking. More information about Marker Trax can be found on the company's website at markertrax.com.
For Media Related Inquiries, Contact:
Tashina Wortham
Marketing Communications Manager
702.419.6025

Stephanie Wilson/Rebecca Lane
702.528.0197