Konami's SYNK31 and DIMENSION 49J Awarded Most Innovative Gaming Technology of 2020 in Casino Journal's Top 20
Las Vegas - September 15, 2020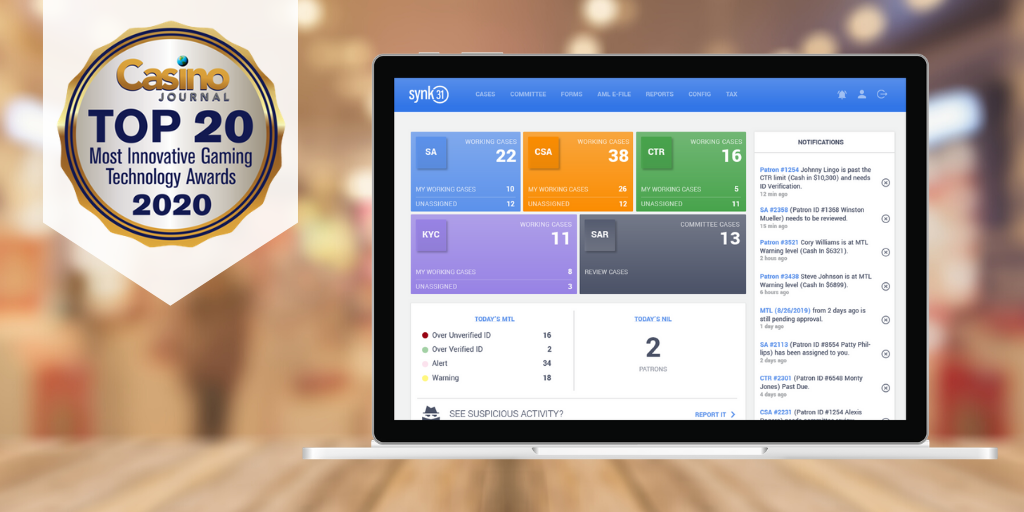 Konami Gaming, Inc. won dual honors in Casino Journal's Annual Top 20 Most Innovative Gaming Technology Awards for its DIMENSION 49J video slot cabinet and SYNK31 Title 31 / Anti-Money Laundering (AML) system. Each is representative of the company's investment in games and systems research & development (R&D), to support the casino industry with high-performing entertainment and technology. Konami's DIMENSION 49J™ and SYNK31™ were chosen by an independent panel of experts as the most innovative product advancements of the year.
"Konami is committed to championing the future of gaming through innovative products like DIMENSION 49J and SYNK31," said Tom Jingoli, executive vice president & chief operating officer at Konami Gaming, Inc. "Both were engineered from start-to-finish with a focus on driving distinct value to the operator, through streamlined design, effective results, and long-term quality."
As one of the industry's newest slot cabinets, DIMENSION 49J maximizes player comfort and entertainment, while maintaining optimal sizing and adaptability for diverse operators. The 49-inch, "J" curve slot cabinet is the launch pad for top game content, developed to maximize moment-by-moment excitement and anticipation for players. The game launch library for DIMENSION 49J includes everything from one-of-a-kind Konami premiums like the first Silent Hill® slot games to series like Ocean Spin™ with stunning animation sequences across multiple cabinets. All Aboard™ is also among the cabinet's debut game series—now expanding across North America following proven success in Australian markets.
"DIMENSION 49J is serving a strong mix of slot series, on a machine that upholds lasting operational gain and flexibility for properties," said Jingoli. "As the casino floor continues to change and adapt, slot cabinets that are streamlined, effective, and efficient like DIMENSION 49J help open the door for continued advancement, through thoughtful design and entertainment quality."
Konami's SYNK31 is an all-in-one Title 31 / AML system that empowers operators to seamlessly compile all reporting, time stamped notes, files documents, screenshots, photos, videos, and emails associated with a patron or incident, in one easy location. Casino employees can complete all the forms and reports necessary for compliance, including the Multiple Transaction Log (MTL) Form, Negotiable Instrument Log (NIL) Form, Suspicious Activity Incident (SAI) Report Form, Currency Transaction Report (CTR), Know Your Customer (KYC) Reviews, and much more, with electronic uploading to the IRS and FinCEN through batch reporting and individual reporting. All necessary AML information is captured and compiled with near real-time results, allowing operators to identify and respond to incidents as they occur.
"Our world-class casino systems engineers designed SYNK31 for speed, efficiency, ease, and connectedness," said Jingoli. "The result is a robust, all-in-one solution for casino teams to achieve highly consistent and accurate compliance."
About Konami Gaming, Inc.
Konami Gaming, Inc. is a Las Vegas-based subsidiary of KONAMI HOLDINGS CORPORATION (TSE: 9766). The company is a leading designer and manufacturer of slot machines and casino management systems for the global gaming market. For more information about Konami Gaming, Inc. or the SYNKROS gaming enterprise management system, please visit www.konamigaming.com.
For Media Related Inquiries, Contact:
Tashina Wortham
Marketing Communications Manager
702.419.6025