Konami Gaming Steps Up its Support for U.S. Veterans
Las Vegas - November 07, 2019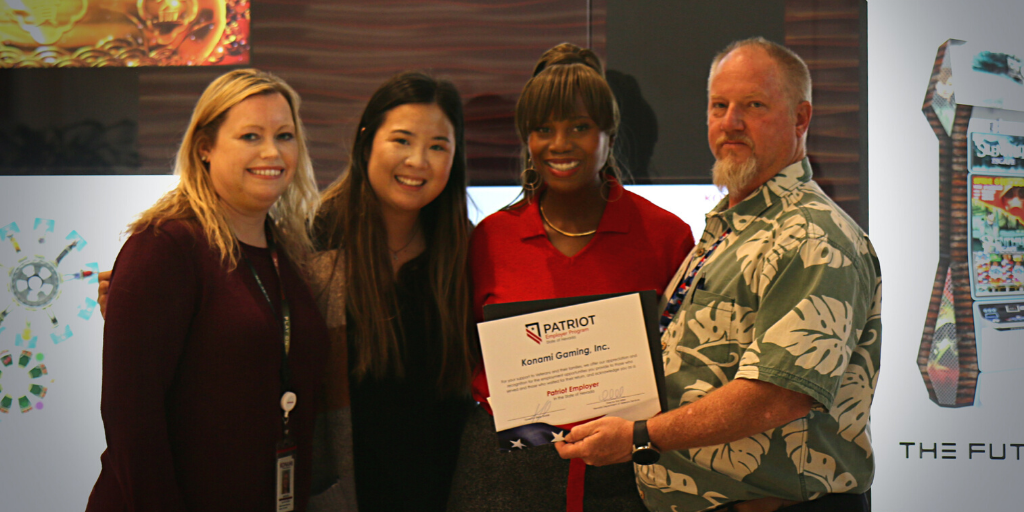 Konami Gaming, Inc. announced the recent launch of veterans support programs aimed at facilitating more career opportunities for the nation's most underserved group for workforce development. The Las Vegas-based casino games and systems developer has implemented initiatives including the Patriot Employer Program and Job Training, Employment Skills Training, Apprenticeships and Internships (JTEST-AI) program to help bring the leadership and technical skills of U.S. veterans into the gaming space.

"Konami Gaming is firmly committed to employing and supporting veterans and their families," said Steve Sutherland, president and chief executive officer at Konami Gaming, Inc. "The nation's service members bring valuable skills, strategic discernment, and diverse perspectives that enhance our workplace and promote our company values."

In September of this year, Konami Gaming completed certification through the Patriot Employer Program, which equips recruiting personnel with special tools and insight for hiring and retaining military veterans. The program gives Konami recruiters an enhanced expertise in reaching and engaging job seekers who have served in the armed forces.

In 2018, Konami Gaming became an approved Career Skills Program (CSP) in partnership with Nellis Air Force Base. Through the JTEST-AI program, Konami provides civilian internships for qualifying members of the military transitioning from active duty to the civilian workforce. Konami now actively employs several full-time team members who joined the company through this program.
About Konami Gaming, Inc.
Konami Gaming, Inc. is a Las Vegas-based subsidiary of KONAMI HOLDINGS CORPORATION (TSE: 9766). The company is a leading designer and manufacturer of slot machines and casino management systems for the global gaming market. For more information about Konami Gaming, Inc. or the SYNKROS gaming enterprise management system, please visit www.konamigaming.com.
For Media Related Inquiries, Contact:
Tashina Wortham
Marketing Communications Manager
702.419.6025